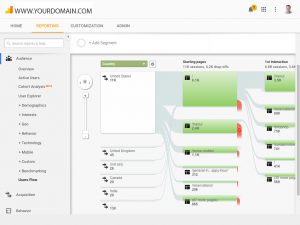 There are many reasons why visitors will leave your website quickly. It could be because the content didn't meet their expectations. Perhaps the overall design is flawed. Or people might be finding it too difficult to navigate. Even if your site has a good design and is well maintained, there is always room for improvement regarding your website's bounce rates.
Using Analytics Software
Apart from Google, there are numerous online companies offering analytics software to help improve your online business. By tracking the bounce rates of different pages throughout your website, you can discover where the weaknesses are and where you need to make the necessary improvements. Obviously, the software can't solve all your problems, but by analyzing the various results, at least you know where to begin to improve your website's bounce rates.
The Importance of Page Load Speed
It's probably no shock to you that people don't like waiting around when they're looking for information. Some people may even give up after waiting five seconds for your website to load. Don't risk losing potential customers because of poor loading times. Reduce image sizes and avoid pop-up ads. Also look into using various online tools available for checking and improving website speed, and talk to your webmaster about improving your website's bounce rates by optimizing load times.
What Are Your Visitors Really Looking For?
Before doing any business with you, many first-time visitors to your site will want to know more about your business. Therefore, an "About Us" page is crucial to gaining the trust of potential customers and is an opportunity to promote your key marketing messages in the early stages of interaction. If you have poor bounce rates, make sure an "About Us" link is clearly visible on every page.
Visitors also need to know that you offer the goods or services that they initially searched for. Ensure that every page on your website includes your company logo and references to your key products and services. This should go a long way toward fixing poor bounce rates.
The Importance of Good Design
People will make a judgement about your website in a few seconds. It's therefore essential to get the original design right to encourage visitors to stay on your site for longer. If you use a web design company, are there any improvements they can make to the fundamental design to improve bounce rates? Could your website look more professional? Many business websites still make the mistake of using poor-quality fonts and crude colors. Poor grammar and spelling mistakes will also help to drive away countless visitors from your site.
The Power of Search Engine Optimization (SEO)
Bounce rates are also affected by the quality of SEO applied to your website. Regular placement of keywords and keyphrases related to your company, products, and services will make it more likely that targeted visitors are entering your site via the search engines. Be specific in your choice of words. Generic product terms, for example, could lead to lots of irrelevant traffic. Placing keyphrases within headlines will also improve your SEO power and help your bounce rates by encouraging visitors to explore your content further. Consider hiring a reputable SEO company to handle the complex strategies of effective SEO.
Improving Your Website's Navigational Structure
High bounce rates are often exacerbated by substandard website navigation. Work with your webmaster to ensure each page of your website is user-friendly. Position the main links above the fold. Create enough space between blocks of text to keep each page uncluttered. And enhance your call to action buttons by increasing their size and frequency on each page.
With larger websites, include a search box on each page. This will make sure your visitors always have an opportunity to continue exploring your site, even if they become "stuck" on a page. With analytics software, you can improve your bounce rates by finding out the most popular search terms and adding specific links to each page.
Improving the bounce rates for any business website doesn't have to be a complicated process. With relatively small changes, you can make a big difference to the usability and effectiveness of your website. It may not be perfect for every visitor, but even a small improvement in website bounce rates can represent higher sales or strengthen your web presence, contributing to your long-term success.